NFL Draft 2020 live results: Grading the Top 10 selections
The 2020 NFL Draft is in high gear! As the selections keep rolling in, here is an up to the minute look at the selections along with grades for the top 10 picks.
NFL Draft Top 10
1. Cincinnati Bengals — Joe Burrow, LSU, QB — Grade: A+
This is a no-brainer. Burrow looks to have all the skills to be a great NFL quarterback and the Bengals are in a serious rebuild mode. Great selection.
2. Washington Redskins — Chase Young, Ohio State, DE/Edge — Grade: A
Just like the Bengals at No. 1, the Washington Redskins made the strong yet sensible selection in Chase Young. He was a beast at Ohio State and Redskins fans are hoping he is the real deal in DC.
3. Detroit Lions — Jeff Okudah, Ohio State, CB — Grade: A+
The Lions made it obvious that they wanted the consensus No. 1 cornerback – and they got him. Okudah will quickly become part of the Leo's new-look defense that made some major improvements during the offseason.
4. New York Giants — Andrew Thomas, Georgia, T — Grade: C+
Kind of a shocker for NY at No. 4. The Giants have a lot of needs, so getting a big fella to help block for their running game makes sense. Many experts believed that the G-Men may be all in on linebacker Isaiah Simmons.
5. Miami Dolphins — Tua Tagovailoa, Alabama, QB — Grade: B-
I'm not a huge fan of this pick. With several question marks due to some serious injuries at Alabama, Tagovailoa is a high risk at No. 5
6. Los Angeles Chargers — Justin Herbert, Oregon, QB — Grade: B+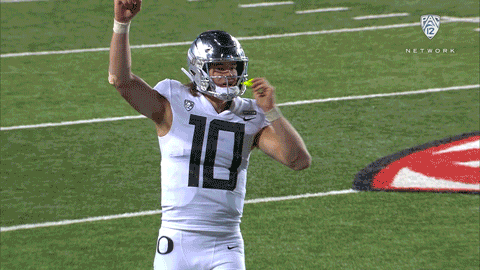 The man Miami let get away! The Chargers snatching up Herbert is a great selection. Last year at this time many thought Herbert could be selected No. 1 overall. The Bolts got a good one at No. 6
7. Carolina Panthers — Derrick Brown, Auburn, DT — Grade: A
The Panthers were one of the worst teams in the NFL last season against the run. Brown should help them improve a ton instantly.
8. Arizona Cardinals — Isaiah Simmons, Clemson, LB/DE — Grade: A
This kid is one of the best on defense in the 2020 draft. Still a bit surprised the Lions, Panthers, and Giants passed on him. He will be a star in the NFL.
9. Jacksonville Jaguars — CJ Henderson, Florida, CB — Grade: B
Isn't it hard to believe that this team was fighting the Patriots in the AFC title game just a few seasons go? Now in full-rebuild mode, the Jags will start the process by selecting a top 10 CB in the NCAA game in Henderson.
10. Cleveland Browns — Jedrick Wills Jr., Alabama, T — Grade: A
At 6′ 5″ and 320 lbs, Willis will help strengthen that Browns' offensive line. With the Browns signing Jack Conklin to play right tackle, Wills will most likely move to the left tackle position to help protect Baker Mayfield's blindside.
Best of the rest
11. New York Jets — Mekhi Becton, Louisville, T
12. Las Vegas Raiders — Henry Ruggs III, Alabama, WR
13. Tampa Bay Buccaneers (from San Francisco 49ers, via IND) — Tristan Wirfs, Iowa, T
14. San Francisco 49ers (from Tampa Bay Buccaneers) — Javon Kinlaw, South Carolina, DT
15. Denver Broncos — Jerry Jeudy, Alabama, WR
16. Atlanta Falcons — AJ Terrell, Clemson, CB
17. Dallas Cowboys — CeeDee Lamb, Oklahoma, WR
18. Miami Dolphins (from Pittsburgh Steelers) — Austin Jackson, USC, OT
19. Las Vegas Raiders (from Chicago Bears) — Damon Arnette, Ohio State, CB
20. Jacksonville Jaguars (from Los Angeles Rams) — K'Lavon Chaisson, LSU, Edge
21. Philadelphia Eagles — Jalen Reagor, TCU, WR
22. Minnesota Vikings (from Buffalo Bills) — Justin Jefferson, LSU, WR
23. Los Angeles Chargers (from New England Patriots) — Kenneth Murray, Oklahoma, LB
24. New Orleans Saints — Cesar Ruiz, Michigan, C
25. San Francisco 49ers (from Minnesota Vikings) — Brandon Aiyuk, Arizona State, WR
26. Green Bay Packers (from Miami Dolphins, via HOU) — Jordan Love, Utah State, QB
27. Seattle Seahawks — Jordyn Brooks, Texas Tech, LB
28. Baltimore Ravens — Patrick Queen, LSU, LB
29. Tennessee Titans — Isaiah Wilson, Georgia, T
30. Miami Dolphins (from Green Bay Packers) — Noah Igbinoghene, Auburn, CB
31. San Francisco 49ers — Jeff Gladney, CB, TCU
32. Kansas City Chiefs — Clyde Edwards-Helaire, RB, LSU