NFL MVP Odds: Patrick Mahomes Favored, Tom Brady, Josh Allen Being Overlooked?
The updated NFL MVP odds have been released. Now, to no one's surprise, Kansas City QB Patrick Mahomes is the clear cut favorite. While it is hard to argue that Mahomes is having another great year, are some long-shots getting seriously overlooked?
NFL MVP Odds changing
For the first half of the 2020 season, Seattle QB Russell Wilson seemed like a shoo-in to take home the MVP Trophy.
Since then it has become a race between two other high-flying QBs in Kansas City's Patrick Mahomes and Green Bay's Aaron Rodgers.
Oddsshark has Mahomes set at -300 to be selected as the NFL MVP. Right behind Mahomes is Aaron Rodgers at +260. Their stats are more than impressive and their teams are clicking on all cylinders.
However, two longshots who should be more in the conversation in our humble opinion are Josh Allen and Tom Brady.
Tom Brady "too good" to be considered? Josh Allen overlooked?
Can you be too good at something? It seems you can in terms of sports. Let's be honest here, while many NFL experts are saying Tom Brady is slowing down, the argument for the opposite can be made.
Brady has thrown for just under 4,300 yards and 36 touchdowns so far in 2020. He also has led his new team, the Tampa Bay Buccaneers to their first playoff appearance since 2007.
And of course he is doing all of this at the tender age of 43.
Just like Wayne Gretzky and Michael Jordan before him, fans and even NFL experts overlook Brady in terms of an MVP award because he is so consistent season after season.
With huge odds of +15000, Brady is definitely worth a flyer wager to say the least.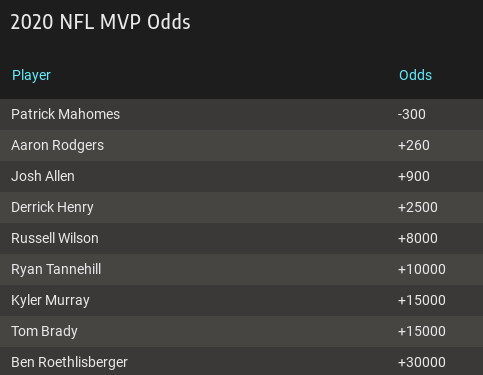 Then there's Josh Allen.
Does he not get the right amount of hype because he plays for Buffalo? Yes, the Bills have been average or worse for a long time, but Allen is having an incredible season and so are his playoff-bound Bills.
While Allen's stats (4,000 yards, 30 TDs) are not as high as Mahomes, Brady, or Rogers, he is a perfect example of why the MVP should not be based on stats alone.
The guy is a leader. On the verge of completing his third season, Buffalo's record has improved each year – and so have Allen's personal stats.
Just 24, Allen could grow into one of the best passers in not just Bills history, but NFL history.